Sage Brown Butter Pork Chops with Apples and Shallot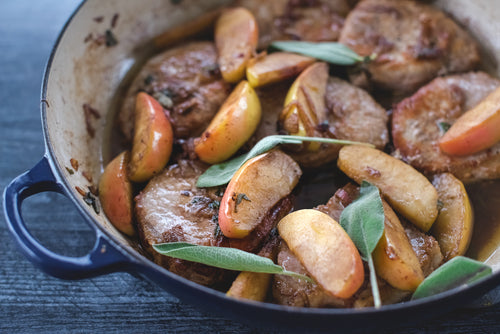 Ingredients:
4-6 boneless pork chops about 1 inch thick
4 tablespoons butter
3 tablespoons fresh sage chopped
2-3 honey crisp apples cored and sliced into wedges
2 shallots sliced thin 
2 tablespoons

 

Liokareas Balsamic Vinegar
In a heavy cast iron skillet, coat pan lightly with Liokareas Sage Olive Oil and heat over high heat. Salt and pepper pork chops generously. Sear pork chops for 3-4 minutes per side, working in batches if necessary. Remove from pan. Lower heat to medium and melt butter stirring until foam subsides. Add apples and shallot and sauté until softened. Add sage and Liokareas Balsamic Vinegar and cook a few minutes more being very careful not to burn the butter but letting it take on a nice golden brown color. Lower heat if needed while doing this. Return pork chops to pan and baste with the hot butter until finished cooking at 140 degrees. Serve with mashed potatoes or stuffing.
---