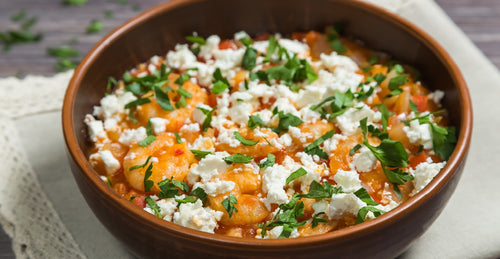 Submitted by Lisa D.
Servings: 4

Ingredients:
1/8 cup Liokareas olive oil
1 onion chopped
4 garlic cloves chopped
1 teaspoon red pepper flakes
2 cups of fresh tomatoes chopped
2 cans (14.5 oz) diced tomatoes with sweet onion
1 Tablespoon greek oregano
1/4 cup Ouzo
2 lb. Raw cleaned and deveined shrimp with tails left on
The desired amount of feta cheese, cut into cubes
A handful of chopped parsley
Directions:
1. Heat oil in large cast iron skillet over medium heat.
2. Saute onion until soft about 5 minutes.
3. Add red pepper flakes and garlic, saute for 2 more minutes.
4. Add fresh tomatoes, stir and cook for 5 minutes.
5. Add the 2 cans of diced tomatoes and the oregano and cook for 10 minutes.
6. Turn heat down a little bit, add ouzo and cook for 10 minutes, stirring a few times.
7. Add shrimp, stir a few minutes, make sure shrimp are not fully cooked.
8. Spread feta cubes over the top and broil in oven until shrimp is cooked through and cheese is melty.
9. Remove from oven and top with chopped parsley.
Serve with grilled bread, brush with olive oil before grilling
---