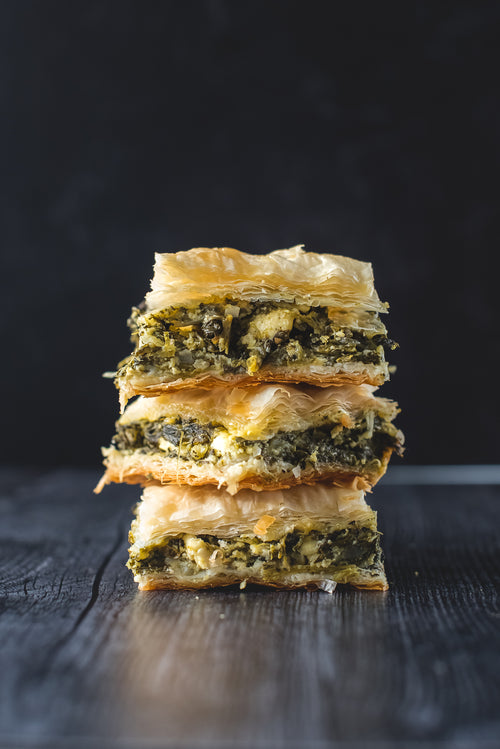 Ingredients:
3-4 sticks of butter (1 for spinach, others for phyllo)
1 large onion diced
2 cloves garlic minced
1 lb. of feta crumbled
1 lb. ricotta
2 boxes of filo
1 cup Parmesan cheese
5 boxes of frozen spinach (defrosted and squeezed dry)
Salt and pepper
1 lemon
For Spinach Filling:
Melt butter and Liokareas Organic Extra Virgin Olive Oil over medium heat. Sauté onions until tender. Add garlic and sauté for a minute more. Add spinach and continue cooking until cooked and heated through. Add feta, parmesan and ricotta, mixing well but not breaking up feta too much. Season with salt, pepper, and juice of lemon. Take off heat, cool, and mix in beaten egg
For a pan:
(This is how I usually make it. It makes more serving and is a little less time consuming) I use a jelly roll size pan, or half sheet pan.
Open one package of phyllo. Lay it out and cover with a towel to keep from drying out. Melt 2-3 sticks of butter. Brush the bottom of the sheet pan. Lay the phyllo dough sheet by sheet into pan brushing each sheet with butter generously and being careful not to rip the dough. The phyllo may not fit perfectly so you may have to later trim edges. Use one who box/two packages of phyllo. Then place the spinach mixture on top of the phyllo. Use another box/two packages on top of the spinach mixture exactly as you did the bottom. Freeze for an hour or so(or as long as you like, but at least long enough so it is easy to cut) or so and cut into squares. This step isn't necessary but cutting phyllo after it's cooked is much more difficult! Bake at 350 degrees for about 45 minutes to an hour or until golden brown on top.
For triangles:
You can make these any size you like. For the big triangles I stacked two sheets of filo on top of each other and folded them lengthwise. Placing the vertical strip in front of you, brush with butter, and place a small amount of spinach in the bottom corner. Bring corner to meet opposite edge and continue rolling into "football" shape. You can make these smaller by making the strips thinner. Brush tops generously with butter and bake at 350 degrees for about a half an hour or until golden brown.
Pan and triangles can be made ahead of time and frozen. Just allow extra time for baking.
---