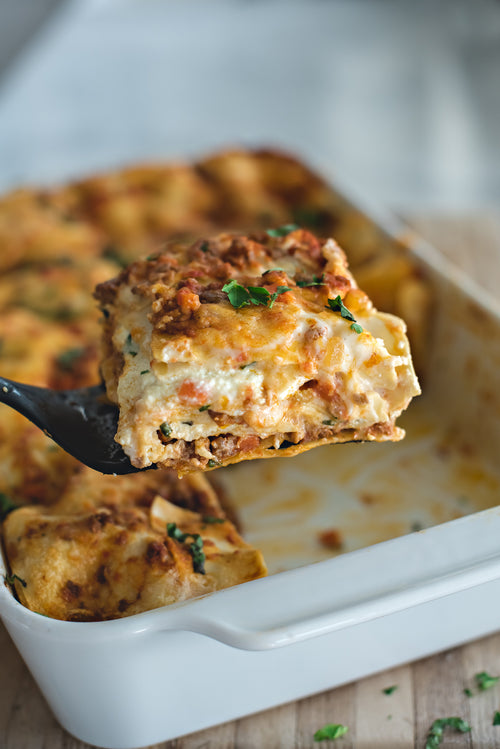 For the Bolognese
2 tablespoon

 

Liokareas Organic Extra Virgin Olive Oil
2 tablespoon butter
one large onion finely chopped
two carrot finely chopped
two celery rib finely chopped
one clove garlic minced
two bay leaves
3/4 pound ground beef
3/4 pound ground pork
one cup dry white wine 
one 28 oz can san marzano tomatoes (I use whole and blend with immersion blender slightly but you can use crushed also)
one 14 oz can diced tomatoes in sauce
3/4 cup heavy cream
freshly grated parmesan cheese 
basil 
salt and pepper
3 boxes of the no boil lasagna sheets or fresh pasta sheets. Don't use the boil lasagna noodles. They're too thick usually for this dish and overpower the flavors.
For the Ricotta
46 oz container ricotta
1/2 Fresh chopped basil
1/4 cup Fresh chopped parsley
2 cups grated Parmesan cheese  
2 eggs, slightly beaten
For the Bechamel
1 cup flour
1 cup butter
4 cups milk
Fresh grated nutmeg
Big handful grated parm
S and p to taste
Preheat oven to 350 F
For the Bolognese:
Heat butter and Liokareas Organic Extra Virgin Olive Oil in large sauce pan over medium heat. Add onion, carrots, and celery and cook until soft and onions are translucent. (about 8 minutes) Add garlic and bay leaf, cook one minute more. Add meats and cook, breaking up, until no longer pink. Add wine and increase heat to high until at a slight boil. Lower heat and simmer 5 minutes until wine is reduced. Add tomatoes and cream and bring to a gentle boil. Reduce heat to low and keep at a bare simmer for at least an hour. Remove bay leaf. Add salt and pepper to taste.
For the Ricotta mixture:
Mix all ingredients in a large bowl until well combined.
For the Bechamel:
Heat butter in large sauce pan over medium. Add flour, stirring constantly until golden. Slowly whisk in milk. Season well with salt and pepper and a sprinkle of fresh ground nutmeg. Stir in a nice handful of grated Parmesan.
For the Lasagna:
Butter a big lasagna or roasting pan (I use my Pillivuyt Roaster #0 which is possibly my favorite baking dish). Whatever you use, just make sure the sides are at least 3 inches high. Place a layer of noodles, slightly less than half the meat sauce, noodles, half ricotta mixture, noodles, slightly less than half bechamel, and repeat so that you have two layers of each. You'll have six layers total and you should have a bit of the meat sauce a béchamel left. Take what's left of the two and use both to top off the lasagna. 
Bake for 45 minutes or until nice and bubbly!
---