Greek Marinated Chicken Skewers with Lemon-Dill Whipped Feta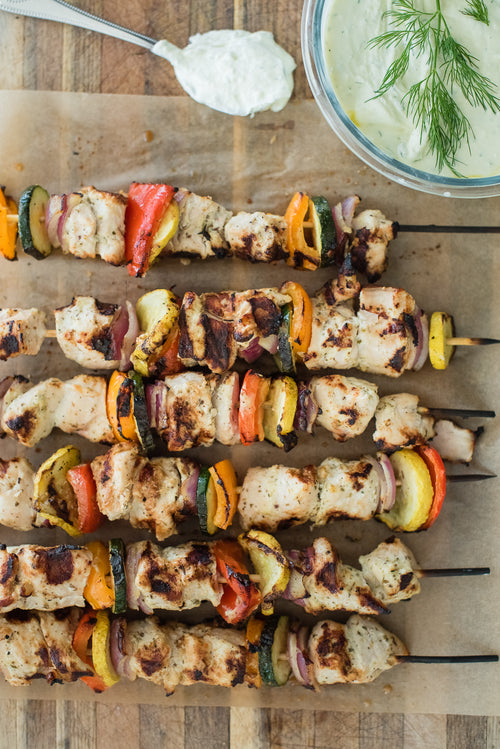 For the Marinade
 For the Skewers
 2 pounds chicken tenders cut into two inch pieces
1 zucchini, sliced
1 yellow squash, sliced
1 red onion, diced large
2 bell peppers, diced large
 For the Whipped Feta
 8 oz feta
2 oz cream cheese
1/4 cup Greek Yogurt
1 lemon juiced
2 tablespoons chopped dill
pinch of

 

Liokareas Sea Salt

 

and fresh ground pepper
 For the Skewers
Mix together ingredients for the marinade and add chicken. Let sit at least 2 hours and up to 24 hours. Toss the vegetables with a little bit of Liokareas Organic Extra Virgin Olive Oil and Liokareas Sea Salt and pepper. Skewer two pieces of chicken, two slices red onion, one zucchini or squash and one pepper. Repeat two times. Grill on medium-high heat until chicken reaches 165. Serve over rice with Whipped Feta.
For the Whipped Feta
Add the feta, cream cheese, lemon juice, and yogurt to food processor. Pulse a few times to mix together. With the motor running, add Liokareas Early Harvest Extra Virgin Olive Oil slowly until mixture is well combined. Add dill, Liokareas Sea Salt and pepper. Pulse a few times. Serve room temperature with skewers.
---