Spicy Lamb Meatballs with Mint Pesto & Olive Oil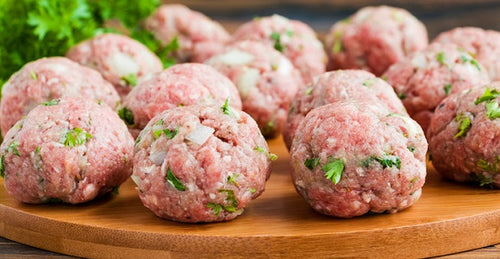 Submitted by Wiley G.
Servings: 4

Ingredients:
1 lb ground lamb
1 egg
1/2 cup panko
cumin
red pepper flakes
turmeric
finely chopped parsley
2 Tbsp. Liokareas olive oil
1½ tsp. salt
1/4 cup yogurt
Directions:
Combine egg, panko, cumin, red pepper flakes, turmeric, finely chopped parsley, 2 Tbsp. oil, and 1½ tsp. salt in a large bowl. Finely grate 1 garlic clove into bowl. Add lamb and mix with your hands until evenly distributed.
Gently roll lamb mixture into 1½"-diameter balls (about the size of a golf ball; you should have about 20). Place on a rimmed baking sheet, spacing evenly apart. Bake meatballs until browned and cooked through, 8–10 minutes. Meanwhile, purée mint, raisins, parsley leaves with tender stems, remaining garlic clove, remaining ½ cup oil, and a big pinch of salt in a blender until smooth. Taste pesto; season with more salt if needed.
Spread yogurt over plates and divide pesto and meatballs on top. Side note: I used flaxseed instead of panko.
---