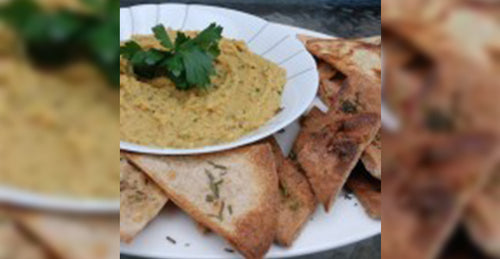 Submitted by Grace V.

Ingredients:
1/4 cup, plus 3 tablespoons Liokareas olive oil, divided
1 shallot, small diced
3 cloves garlic, small diced
1 teaspoon ground black pepper, divided
1 teaspoon coriander
1 teaspoon cumin
1 teaspoon smoked paprika
½ teaspoon curry
½ teaspoon cayenne pepper
½ teaspoon ginger
¼ teaspoon nutmeg
1 cups red lentils, rinsed and picked over
2 ½ cups of low sodium vegetable stock or low-sodium chicken stock
2 teaspoon kosher salt, divided
1 can (15-15 ½ ounce)garbanzo beans, rinsed & drained
2 tablespoons Greek yogurt
2 -3 tablespoons of water, if necessary
¼ cup Italian flat parsley, small dice
1 tablespoon fresh mint, small dice
2½ tablespoons freshly squeezed lemon juice

Directions:
Place lentils in a strainer and pick over to remove any debris or old lentils. Rinse well under running water and set aside.
Heat 3 tablespoons of olive oil in a medium-sized saucepan over medium heat and add shallots and garlic.
Cook for 2-3 minutes until shallots begin to soften, but not brown.
Stir in ½ teaspoon black pepper, coriander, cumin, pimenton, curry, cayenne pepper, ginger, nutmeg, and lentils and add broth.
Bring to a rapid simmer and immediately reduce heat to a low simmer.
Cook, uncovered, for approximately 12-15 minutes until all liquid is absorbed and lentils are soft. If lentils begin to stick or dry out before they are cooked, add stock by the spoonful until lentils are tender. Lentils will have an oatmeal-like consistency.*
Stir in 1 teaspoon salt and allow lentils to cool to room temperature.

Puree garbanzo beans in a food processor, adding Greek yogurt and blend until smooth. If the mixture is too dry sprinkle in some water.
Add parsley, mint, lemon juice, 1 teaspoon salt, ½ black pepper, cooled lentils and pulse to combine.
Drizzle in ¼ cup of olive oil and puree until all the olive oil is incorporated and hummus is smooth.
Adjust salt and pepper to taste.
Serve with toasted herbed pita, tortilla chips or fresh vegetables.

Notes:
*Unlike green or brown lentils, the red lentils are smaller and will cook down to an oatmeal-like consistency, which is perfect for the hummus.
---