Pilaf Parmesan & Rice with Sausage, Spinach & Feta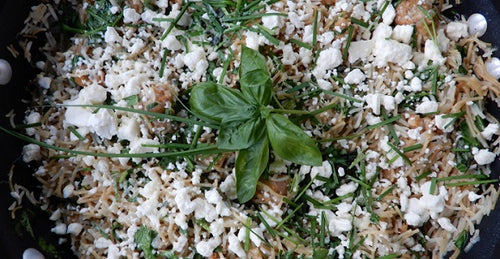 Submitted by Lorraine S.
Servings: 6

Ingredients:
1/4 cup Liokareas extra virgin olive oil, plus 2 tablespoons
1 pound sausage links, chicken or pork, cut into 2" pieces
1 cup shallots, coarsely chopped
1/4 teaspoon ground cinnamon
1 teaspoon each salt and pepper
1/2 pound angel hair pasta, white or wheat, broken into 1" pieces
1 cup white basmati rice
4 cups low-salt chicken stock, plus more if needed
1 cup grated Parmesan cheese, plus more to pass at the table
2 cups fresh baby spinach, coarsely chopped
1/2 cup fresh basil leaves, coarsely chopped
1/4 cup fresh Italian parsley, finely chopped
4 ounces packaged crumbled Feta cheese
1/4 cup fresh chives, coarsely chopped
Directions:
1. In a 12" high sided nonstick skillet on medium heat, add 2 tablespoons of olive oil. Brown the sausage pieces and then remove to a plate with all the pan juices. They will continue to cook in the pilaf.
2. To the pan add the remaining 1/4 cup of olive oil and the chopped shallots, pasta and rice. Saute, stirring constantly just until fragrant and light golden brown; about 5 minutes. Stir in the salt, pepper and cinnamon.
3. Add the chicken stock and stir to combine. Add back the sausages and stir. Bring to a slow boil and then reduce the heat to a simmer and cover. Cook 15-20 minutes until all the broth is evaporated and the rice and pasta are al dente. Stir a few times during cooking. Add more broth if necessary.
4. Remove from the heat and stir in the Parmesan cheese, baby spinach, basil and parsley. Top with the Feta cheese and fresh chives. Cover and let rest for 15 minutes before serving.  Pass more grated Parmesan cheese at the table.
---