Paleo Chicken with Kalamata Figs and Olives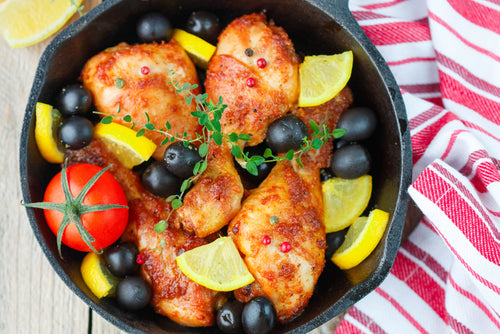 Add great flavor to your roasted chicken. The Kalamata Sundried figs paired with the Kalamata Olives give this dish a sweet and salty mix and is very simple to prepare.
Ingredients:
4 chicken breasts, 4 chicken thighs (you can mix and match)




1 tablespoon OILIO Premium Extra Virgin Olive Oil




10 OILIO Sundried Kalamata Figs (cut into small pieces)




1 cup OILIO Premium Selected Kalamata Olives




1 cup sliced shallots (about 2)




1 cup white wine

3 pieces fresh thyme




1 teaspoon sea salt

1/4 teaspoon black pepper



What to do:
Preheat oven to 400 degrees
Season chicken with salt and pepper
Add OILIO olive oil in large skillet over medium-high heat, making sure to coat the skillet
Add chicken to skillet, skin side down, and allow to seer for 5-10 minutes or until skin is brown
Flip and cook the other side for 3 minutes
Remove chicken and place on platter
Add shallots and figs to the same skillet until shallots start to brown
Add olives, wine, and thyme to skillet and allow everything to boil for a minute
Place everything in oven safe pan including chicken, skin side up
Place pan in oven and roast for 30 minutes or until fully cooked
Enjoy!
---