Paccheri with Oven Roasted Cherry Tomatoes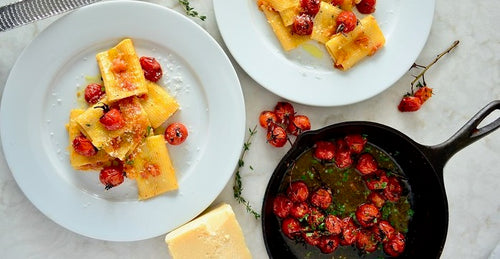 Submitted by Mounir E.
Servings: 3 servings
Ingredients:
1-pound cherry tomatoes
½ pasta Paccheri
3 sprigs thyme
5-tablespoon Liokareas olive oil
Salt and freshly ground pepper to taste
Chopped parsley for garnish
Grated Parmesan cheese (optional)
Directions:
Preheat the oven to 400 degrees F.
Toss the tomatoes with olive oil and thyme place on iron cast pan season generously with kosher salt and freshly ground pepper. Roast for about 15 to 20 minutes, until the tomatoes are soft.
Cook pasta in salted boiling water according to the package directions, drain and mix with the roasted cherry tomatoes. Under medium heat, toss very well until the pasta well coated about 1 minute.
Garnish with chopped parsley and drizzle of olive oil.
---