Marinated Feta Cheese With Herbs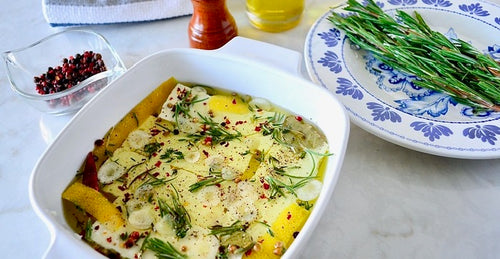 Submitted by Mounir E.
Servings: 4

Ingredients:
16 oz. feta cheese sliced or cut to cubes
Liokareas extra virgin olive oil to cover
Lemon peel
1-teaspoon red chili flakes
1-teaspoon black freshly ground pepper
2 sprigs thyme
2 sprigs rosemary
1 bay leaf
½ clove of garlic thinly sliced
1-teaspoon red and black peppercorn
1-teaspoon coriander
Directions:
1. First, put the feta cheese into a container or glass jar.
2. In a large bowl, combine all the ingredients and mix well, then gently pour the oil mixture into the cheese.
3. Cover and refrigerate for 8 hours or overnight.
4. Bring to room temperature before serving.
---