Liokareas Wins Gold, Silver & Bronze in Athens.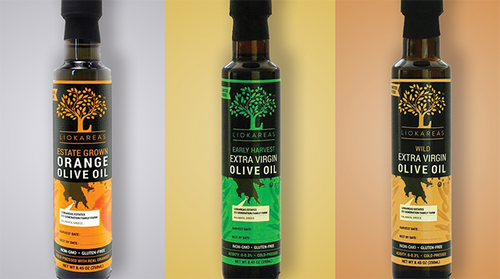 Three more outstanding wins for the Liokareas team! Last month we shipped samples of our
Early Harvest Greek Extra Virgin Olive Oil
,
Estate Grown Greek Orange Olive Oil
and our
Wild Extra Virgin Olive Oil
to Athens, for a week of scrupulous sipping by a panel of International Olive Council (IOC) accredited judges at the
Athena International Olive Oil Competition
. And, they did not disappoint.
All three oils were judged, and all three oils are coming home with some new hardware – Gold, Silver and Bronze.
The Athena International Olive Oil Competition's prestigious awards recognize brilliance in the olive oil industry. As always, we were up against some fierce competitors, particularly those from Greece which continues to uphold its honorable standing as the birthplace of olive oil. 
These three oils, the "Athina Tria", now own seven of our eight total awards and marks the first time we've achieved three separate winners in any international competition.
Every olive in t
hese three
first-pressed specialty oils is pampered, picked and pressed on our own Greek orchard in the foothills of Southern Kalamata Greece.
About the Winning Oils


For the second time in the last three months,
Early Harvest Greek Extra Virgin Olive Oil
,
Estate Grown Greek Orange Olive Oil
have been shrouded in heavy metal. Fresh off their west coast wins in Los Angeles, they received G
old
and S
ilver
respectively in Athens.

Early Harvest Greek Extra Virgin Olive Oil
is l
imited stock and unlimited flavor. Produced in the month prior to our traditional harvest, and boasts robust notes of grass, green leaf, green banana and a hint of pepper. While our
Estate Grown Greek Orange Olive Oil
is l
ike no other olive oil you've ever experienced. Because nobody else blends at the exact moment of pressing — with freshly picked olives and oranges married in the olive mill
Our
Wild Extra Virgin Olive Oil
won Bronze for its rich taste of wild fruits and botanicals, chicory, spices and wild herbs. Produced from olives wrested from the untamed, naturally germinated trees on the outskirts of our farm. It has a medium-sweet, yet very strong pungency that is attributed to the higher levels of polyphenols (antioxidants) in the Wild Olive Cultivar. There aren't many trees and there aren't many bottles. Mother nature only gave us enough for 227 bottles this year and the flavor is…
wild.

When asked to explain our recent success, Founder and CEO, Peter Liokareas says,
"It would be easy to credit technological advances to our recent success. However, technology is only part of the process. Yes, it allows us to maintain both high quality and high quantity, the reality is that it's the "old world" skills and practices our family has adopted over 149 years that lead to our success. This, combined with our rugged, rocky terrain and high altitude that truly allows to produce internationally recognized olive oils."
While our oils continue to impress on the world's stage, awards are merely a validation that the olive oil we've been perfecting for 5 generations actually is. Perfect. But please, ENJOY it abundantly! Our ultimate judge is you.
For a limited time only, save 20% when you add all three Athens award-winning oils to your culinary repertoire. That's all three, small batch, award-winning oils for $45, plus get FREE SHIPPING.
---