Liokareas Orange Olive Oil Cake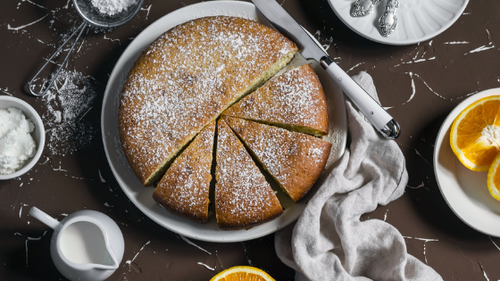 Ingredients:
1 1/4 cups Liokareas Premium Extra Virgin Olive Oil, plus some for greasing

1/4 cup Liokareas Late Harvest Orange Oil
2 to 3 large navel oranges
3 1/2 cups all-purpose flour
1 1/2 teaspoons baking powder
1 3/4 teaspoons kosher salt
5 large eggs
3 cups granulated sugar
Confectioners' sugar, for sprinkling
Position a rack in the middle of the oven, remove any racks above, and crank up the heat to 350°F (180°C). Coat a 12-cup Bundt or tube pan with olive oil (or baking spray) and set aside.


Finely grate the zest of 3 oranges and then squeeze their juice. You should have 1 cups orange juice.


Whisk together the flour, baking powder, and salt in a large bowl.


In the bowl of a stand mixer fitted with a paddle attachment or with a handheld mixer in a large bowl, beat the eggs on medium-high speed until well combined, about 1 minute. Slowly pour in the granulated sugar and continue to beat until thick and pale yellow, about 3 minutes. Switch to low speed and alternate adding the flour mixture and the oil, starting and ending with the flour and beating until just a few wisps of flour remain. Pour in the orange juice and zest and whirl for a few seconds to bring the batter together.


Gently scrape the batter into the prepared pan and bake until a cake tester comes out with a few moist crumbs clinging to it, about 1 1/4 hours. Check the cake occasionally and if the top begins to brown a touch too much, loosely cover it with foil. When the cake is done, transfer the pan to a wire rack and let the cake cool in the pan for 15 minutes. (Don't forget to come back after 15 minutes. Seriously. If the cake remains in the pan too long, the sugars begin to cool and stick to the pan.)



Turn the cake out onto the wire rack and let it cool completely.  Place the cake on a covered cake stand and let it sit overnight. Just before serving, dust with confectioners' sugar.
---