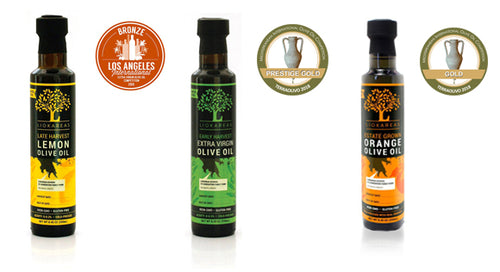 Liokareas olive oil has been gaining attention and popularity, in large part because we have a long history of making the product through traditional methods. Having developed an effective and reliable way of processing olives from beginning to end for more than a century, Liokareas has an advantage that most American businesses do not – we follow the old established Greek methods for creating some of the best olive oils. However, is not the only reason that we have been gaining attention. While olive oil has a fantastic taste on its own, sometimes you want to mix things up a bit. Using our long-established method of processing olives into amazing EVOO, we have been working on adding several other healthy flavors or processing the olives at a slightly different time. The results have been gaining recognition, which inspires us to keep striving for new, high-quality products. Our work has paid off. We have won three internationals awards for three of our amazing Extra Virgin Olive Oils.
Early Harvest EVOO – Prestige Gold
2018 TerraOlivo Jerusalem – Israel
My family knows exactly what to look for as the olives ripen so that we get the best EVOO flavor, and it is the flavor that people have come to know and love. By harvesting olives a month ahead of the usual harvest time, we can create an unfiltered product without changing any other element of the process. This early harvest EVOO has a more bitter flavor that is perfect for balancing certain types of cooking. This also changes the health benefits of the product because the product has higher levels of antioxidants and polyphenols. Acting as an enhancer, it will give you a better taste each meal while also giving you some great health benefits because of early harvesting.
Orange EVOO - Gold
2018 TerraOlivo Jerusalem – Israel
Oranges have their own distinct flavor that can clash with the olive taste. However, when properly processed, you get a unique, delicious EVOO that can give you a completely different flavor for any meal. By combining the familiar olive taste with the tartness of an orange, the end result is something completely unlike any other EVOO. Even better, you get the health benefits of both the olive and the orange, making Orange EVOO a great choice.
Late Harvest Lemon EVOO – Bronze
2018 International Extra Virgin Olive Oil Competition Los Angeles - USA
Like our Orange EVOO, this product combines two very healthy foods – the lemon and the olive. These two flavors make for a completely different and scrumptious flavoring that will have you making it a regular part of your meals. It is so good that it earned the bronze medal at the Los Angeles International Extra Virgin Olive Oil Competition. The two distinct flavors work together to create a taste that leaves you wanting one more bite.
If you love Extra Virgin Olive Oil and want to experience some unique, quality flavors from an authentic, traditional Greek farm give Liokareas EVOOs a try.
---