Liokareas Olive Oil Awarded Bronze at Prestigious International Competition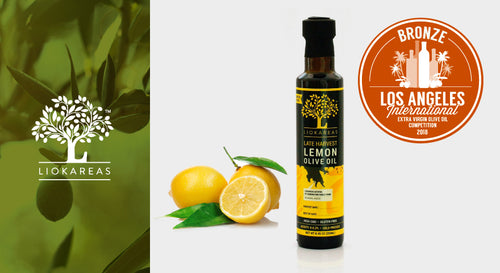 Pittsburgh, PA:  Liokareas, a Pittsburgh based Greek olive oil company, was awarded a bronze award for its Lemon Oil at the highly competitive Los Angeles International Olive Oil Competition of 2018.  It is the most prestigious award the company has ever earned, and it a major step in gaining international recognition.
The Los Angeles International Olive Oil Competition, in its 19th year, is truly an international event. With judges ranking nations from both the northern and southern hemispheres, there are participants from all over the globe. From Japan to Australia, Mexico to Uruguay, South Africa to Greece, every year sees a growing number of participants. It is the most prestigious competition in the US, and fifth ranking EVOO competition in the world. It requires that companies go well beyond the existing requirements for EVOO, and pushes them to meet stricter standards of integrity and skills to prove their products are at the top of their class.  For the northern hemisphere in 2018, there were more than 650 entries from over 370 producers, all hoping to gain some recognition for their hard work and quality products.
The world of extra virgin olive oil (EVOO) is a highly competitive one. There are strict regulations on what a company must do to earn the EVOO label, and it is a point of pride for those who have managed to meet those strict regulations. Despite the difficulty that companies go through to earn the EVOO label, the market for EVOO is still highly competitive, with many companies vying for customer attention. Liokareas strives to not only gain the trust of its customers but to also provide the very best in the industry. They are incredibly passionate about what they do. EVOO has been a family business for over 100 years, and it is something the Liokareas family does with the dedication and love that you would expect from such a long-lived family business.
Peter Liokareas says of his business and products, "My family has been harvesting and pressing some of the world's best olive oil since the 1800's.  Through more than 5 generations, we have handed this special process down from one generation to the next. Although my grandfather was my first mentor, there is one of my older family members, who is like second mentor to me, who has taken our EVOO process to an even higher level.  He is in charge of running the press and ensuring the olives are processed to perfection making our premium extra virgin olive oil. His attention to detail and continuous education has brought our product quality to a level above the rest. One of the most recent accomplishments we have achieved together is the mastering of the Liokareas Late Harvest Lemon oil process. Initially, when we first started doing this, it was an end of the year event, that was just for fun. The last run of the year, we would take our harvested olives, and our organic lemons from the farm and press them together, making enough for each family member to have a few cans for personal use.  We would share with close friends and use it on special occasions.  Over the years, word got around in our little village in southern Kalamata about this amazing product, and last year we decided to bring over a small batch to the US when we introduced the Liokareas brand. The results were amazing and the public was ecstatic about it. After mastering the formula over the past 20 years, and perfecting just the right time-frame to create this Lemon oil, this year, in 2018, we decided to conduct the first large-scale batch of the Liokareas Late Harvest Lemon Oil. To coincide with our first batch, the Liokareas team here in the US decided to send a sample to the 2018 19th Annual Los Angeles International Olive Oil Competition. The results were a bronze medal in the highest recognized EVOO competition in the United States. We are very excited to release this new batch to the public, and we hope that we have made enough supply to keep our customers in stock until next winter."
As a result of their ardent attention and passion for olives and the EVOO process, Liokareas has earned considerable recognition within the industry. Coming from one of the nations that is best known for their quality EVOO, Greece, they take EVOO competitions very seriously, and appreciate when their efforts are recognized.
The award is a result of hard work and dedication, and that they are fortunate enough to have outshone most of the competition. It is an award they fully appreciate, and in the future, we will strive to do even better.
---