Liokareas Brings Home Multiple Awards at Los Angeles Competition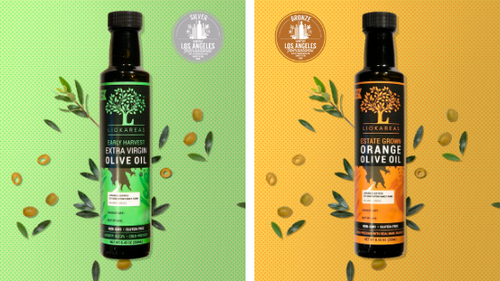 We have some awesome news! Liokareas has added two more awards to its growing collection. Our Early Harvest Greek Extra Virgin Olive Oil won a Silver Medal in the Medium, Koroneiki category and our Estate Grown Greek Orange Olive Oil brought home, a Bronze Medal in the Flavored, Estate Grown category at the 2019 Los Angeles International Extra Virgin Olive Oil Competition.
Celebrating its 20th year, the Los Angeles International Extra Virgin Olive Oil Competition is one of the top-ranking Olive Oil competitions in the United States and fifth worldwide, bringing together the highest standards of integrity and professionalism in awarding medals to the best oils from around the globe.
Over 500 entries from producers of all sizes around the world were submitted this year for consideration in a wide range of categories. We are honored to have won the Silver and Bronze Medals, and it marks another milestone among other awards and recognitions such as the 2018 Los Angeles Bronze and 2018 Terraolivo Gold & Prestige Gold
With so many olive oil producers looking for validation for their hard work and fine products, it's quite the honor to win an award. There are strict regulations producers must comply with to earn the extra virgin olive oil (EVOO) status, making competitions of this type even more intense.
"We were honored to be able to win more than one award at the Los Angeles EVOO competition.  This is one of the top 5 competitions in the world, and they always seem to be the first major competition that everyone in the industry is watching.  There is a lot of hard work involved in producing high quality EVOO and winning at this event gives our family that great satisfaction of being able to see the results of all the efforts put into our production.," says Panagiotis Liokareas, founder and CEO of Liokareas.
About the Winning Oils
Estate Grown Greek Orange Olive Oil - 250mL $17.99
Our Estate Grown Orange Olive Oil is a special and unique product.  This is a process we have worked on year after year and seems like every batch is better than the previous.  Our mix of green Koroneiki olives and organic grown oranges from our farm in Mani gives the oil a sophisticated citrus flavor, but still delivers a fresh green, EVOO flavor profile with medium sweetness, and a nice peppery finish.
Early Harvest Greek Extra Virgin Olive Oil - 250mL $17.99
"Our Early Harvest EVOO has always been my personal favorite," says Panagiotis.  A very green olive oil with a great aroma and medium-sweetness. It has the flavor profile of green tomato, green banana, green apple, chicory and Greek herbs. It is very pungent and has the taste of fresh olive oil as if it was just pressed yesterday. It's a great compliment to any dish because it really brings out the full flavor in anything you are cooking.
Want to learn more about what makes our award-winning oils so
award-winning
?
Visit our
online store
to discover the difference for yourself!
---