Lentils & Israeli Couscous with pine nuts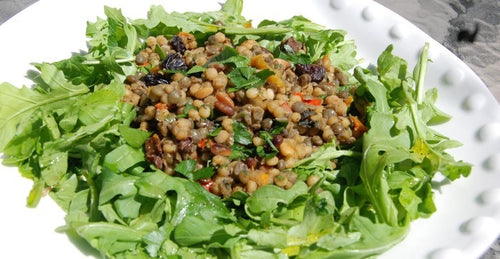 Submitted by Grace V.
Servings: 12 (1/2 cup)
Ingredients:

For Lentils:
1 cup French green lentils, rinsed and picked over
3 cups low sodium vegetable stock or low sodium chicken stock
1 bay leaf
2 cloves garlic, crushed
1/2 teaspoon ground black pepper
1 teaspoon kosher salt
 For Israeli Couscous:
3/4 cup pine nuts, toasted & divided
3 tablespoons
Liokareas extra virgin olive oil
1 cup small diced red bell pepper (1 bell pepper)
3/4 cup small diced shallots (2 shallots)
1 cup Israeli couscous
2 sticks cinnamon
2 bay leaves
1 tablespoon fresh lemon juice (about 1/2 small lemon)
1 teaspoon kosher salt
1 teaspoon coriander
1/2 teaspoon pepper
1 1/3 cups low sodium vegetarian or low sodium chicken stock
3/4 cup black or golden raisins
1/2 cup minced Italian flat leaf parsley
1/4 cup minced fresh mint
Salt and pepper to taste
9 cups of arugula for salad
For Citrus Dressing:
1/2 cup Liokareas extra virgin olive oil
1/2 cup water
¼ cup orange juice
2 teaspoons apple cider vinegar
2 teaspoons fresh lemon juice
2 teaspoons honey or agave syrup
1 ½ teaspoons kosher salt
½ teaspoon ground black pepper
Wisk together all ingredients.
Directions:
For Lentils:
Place lentils in a strainer, pick over to remove debris or old lentils and rinse well under running water. Place the lentils, stock, bay leaf, and garlic in a medium saucepan over medium high heat. Bring to a rapid simmer and immediately turn down to a low simmer and cook, uncovered, for 25-30 minutes, until all liquid has been absorbed and lentils are tender. If there is any excess liquid, pour lentils into a strainer and drain off excess. Alternatively, if they begin to dry out before cooked, add more stock.
Transfer lentils to a bowl and while the lentils are warm, stir in salt* and pepper, remove bay leaf and garlic and allow to cool to room temperature.
For Couscous:
Toast pine nuts in a sauté pan or in the oven until light brown and put aside.
Heat 3 tablespoons of olive oil in a large sauté pan over medium heat and add red peppers and shallots. Cook until softened and shallots begin to become translucent, but not brown for 4-5 minutes. Add couscous to pan and cook until couscous begins to brown lightly, approximately 3-5 minutes and if couscous begins to stick to pan, add a little more olive oil or broth. Stir in cinnamon sticks, bay leaves, lemon juice, salt, coriander, black pepper and stock. Reduce heat to simmer, cover and cook until all the liquid is absorbed and the couscous is tender, 7-10 minutes. Remove from heat and fold in raisins, parsley, mint and 1/2 cup toasted pine nuts and allow to cool to room temperature. Adjust to taste for salt and pepper.
Place couscous in a large mixing bowl and gently fold in cooled lentils, taking care not to mash the lentils.
Divide the arugula among six plates. Evenly distribute the lentils & couscous and top each with the remaining 1/4 cup of toasted pine nuts. Drizzle with Citrus dressing. Serve at room temperature.
---