H.A.L.T. - 4 Enemies of Extra Virgin Olive Oil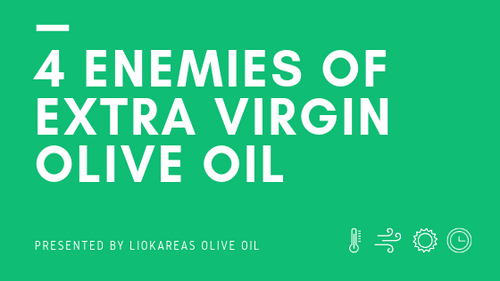 We're proud that our Liokareas Olive Oils have become pantry staples for so many people, and whether you use our Organic Greek Extra Virgin Olive Oil for everyday use , or prefer one of our fused varieties, the key to making sure it lasts is proper storage. So, now that you know how to whip up a delicious dish with our olive oils, let's make sure you're storing it properly and preserving its quality.
Olive oil has four enemies: heat, air, light, and time, — or H.A.L.T. When exposed to any of these elements for an extended period of time, chances are your oil will turn rancid more quickly. The best way to preserve your oil's bright crisp taste and green, earthy aroma is proper storage.
In general, olive oil loves cool, dark, dry places. But, don't go crazy racking your olive oil like fine wine and saving it for your next special occasion. Olive oil is best when its young and fresh. That's why we slap a sticker with a harvest date on every bottle of Liokareas Extra Virgin & Specialty Fused Olive Oils.
You might even be tempted to transfer our olive oils into a clear glass bottle to show off that golden glow. We get it…it's looks pretty good when it catches the light in your kitchen. It's just not good for the oil. Our dark glass bottles are designed to keep the good stuff in and keep the bad stuff out.
Keep these four enemies at bay by downloading this handy cheat sheet as a reminder. Or, better yet, grab yourself a Stainless Steel EVOO Fusti. By far the best way to store extra virgin olive oil and preserve all of its essential health characteristics.
 Click image above to download.
---