Grass-Fed Top Sirloin with Gnocchi and Broccolini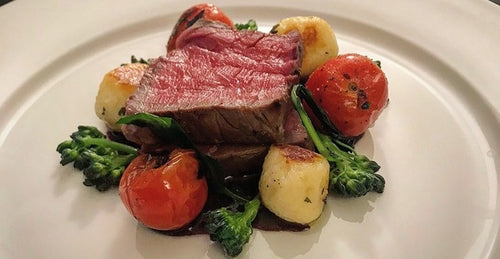 Submitted by Brooke G.
Servings: 2
Ingredients:
12 oz Grass-Fed Top Sirloin
1 bunch broccolini
8-10 grape tomatoes
4 tbsp Liokareas olive oil
1 1/2 cups flour
3 russet potatoes
2 eggs
Directions:
Boil potatoes until soft (about 45 minutes), meanwhile, Bring 2 oz of top sirloin to room temperature, preheat oven to 375. Rub sirloin with truffle salt and olive oil and let sit for 30-45 minutes then cook in the oven. Remove potatoes from boiling water, add broccolini and cook for 5 minutes. Smash potatoes with a fork and add 1 egg, 1 egg yolk and 1 cup of flour, knead occasionally adding flour. Roll into four separate pieces and cut every inch or so. Boil small pieces until they float, then sauté with tomatoes in olive oil.
---