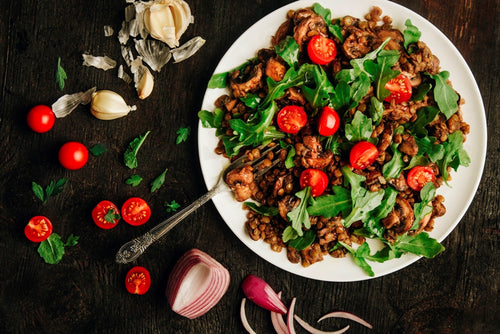 Grain Salad Ideas

One of the easiest ways you can add some vegetables to your diet is by whipping up some salad. Contrary to popular belief, salads don't always have to be a sad medley of leaves. Like the Iris Summer Salad, it can be an exciting combination of juicy fruits and vegetables such as tomatoes, bananas, cucumbers, and seeds. Other times, it can also be a mix of healthy greens, sweet and citrusy fruits, and filling grains. That said, here are some grain salad ideas you can try at home.
Grain Salad with Olives and Whole-Lemon Vinaigrette
The first step to making this delectable dish is toasting the farro in a pan. Once the grains have turned golden brown, you can now toss it in a rice cooker, pour in enough water to cover the grains, add in a healthy handful of salt, and let it cook until tender. Although this process can also be done using a saucepan or a Dutch oven, cooking with a rice cooker is the best way to go about it since the latest models out there can now ensure the perfect cook for all kinds of grain.

In addition to this, We Know Rice explains that many innovative rice cookers are packed with features, and are durable, sleek, and multi-functional. In fact, most brands utilize advanced technologies that can significantly cut cooking time, memorize your preferred setting, and distribute heat efficiently. Following Bon Appetit's recipe, the next thing you have to do is to mix some coarsely chopped olives, chopped lemons, shallots, and some salt and pepper in a bowl and let it sit for five minutes. Then, in a saucepan, you will heat some Liokareas Late Harvest Lemon Greek Olive Oil and add in the olive mixture. Although regular cooking oil will also do, using lemon-flavored olive oil will be preferable since it can make the taste and aroma of lemons and the olives stand out even more. Once the shallots softened a little, you will toss in the cooked farro and add in some herbs, salt, pepper, and lemon juice.
Tabbouleh Salad with Bulgur
Like the previous recipe, this one also starts with the preparation of the grain, and in this case, it's bulgur. However, this time, you just have to place it in a small bowl and cover it with just-off-the-boil water and let it soak for 20 minutes. Next, you have to prepare the mint, parsley, lemon, tomatoes, cucumber, and scallions. Once the bulgur has completely softened, drain the excess water, place it in a large bowl and dress it with our Extra Wild Virgin Olive Oil and some salt. After coating the grains, The Kitchn noted that you can now add in the prepped vegetables and herbs. You just have to thoroughly combine everything and adjust the seasoning as needed.
Southwest Quinoa and Grilled Corn Salad
The preparation for this dish begins with grilling the cobs of corn. Regardless of whether you are using a traditional grill or an electric one that has adjustable temperature control and different heat settings like those featured by The Spruce Eats, you have to leave the husk on. This will help the kernels steam a bit thereby making it tender. Once the corn is cooked, shuck the corn and cut the kernels. In a bowl, combine the cut kernels with your cooked quinoa, kosher salt, red onions, pepper, black beans, cheese, and cilantro.

In a smaller bowl, whisk lime juice, Liokareas Organic Greek Extra Virgin Olive Oil, honey, and cumin together and season it with some kosher salt and freshly ground black pepper. You can also add some honey to taste. Once fully combined, you can now pour in the dressing over the quinoa mix, and stir gently to coat every ingredient. As Foodie Crush mentioned, what's really great about this recipe is that you can refrigerate it and it will stay good for up to two days.

There's no better way to make salads a little more filling than adding some grains like farro, bulgur, and quinoa into the mix. For more cooking tips and easy recipes, make sure to visit our page Liokareas.
----
This piece was written by Ciara Bradley
A liokareas.com exclusive
---