Grilled olive oil poached octopus with rosemary aioli, pickled shallots and smoked almond.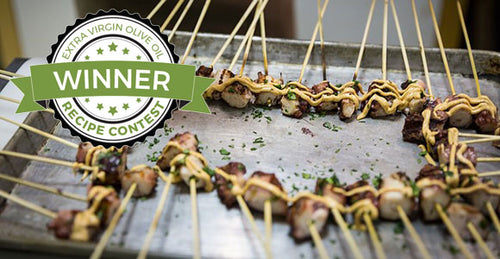 Submitted by John K.

Ingredients:

2 lb Octopus 
1 Lemon 
6 Cloves of Garlic 
4 Sprigs of Rosemary 
3-4 Whole Shallots 
White Balsamic Vinegar 
Fresh Thyme 
Coriander Seeds 
Salt  
Honey 1 1/2 Cup Liokareas EVOO 
1/4 Cup Chopped Rosemary 
2 Egg Yolks 
1 tbsp. Smoked Paprika 
Espelette Chili 
1 Cup Whole Blanched and Peeled Almonds 
Rosemary Oil

Directions:
Octopus:
 
Blanch a 2 lb. octopus in aggressively salted boiling water for 3 minutes.  Remove and let drain in a colander.  Slice 1 lemon into rings, and add 6 cloves of garlic and 4 sprigs of rosemary into a dutch oven or deep oven safe vessel.  Place the drained octopus in with ingredients and cover with extra virgin olive oil.  Place in a 325 F oven for at least one hour to one hour and a half.  You should be able to easily penetrate the octopus with a toothpick, but there should be a small amount of resistance.  Remove from the oven carefully, and let cool to room temperature in the oil.  (Can be made a day or two ahead of time, just keep octopus under the oil level to preserve it.)
 
 
Pickled onions:
 
Take 3 - 4 whole shallots and slice it across as if you were making onion rings.  Place in a small pot and cover with white balsamic vinegar, fresh thyme, coriander seeds, a little salt & honey.  You can add the shallots after you have made a "tea" of the ingredients and it has cooled a little.  Bring the shallots up to almost a boil, then immediately remove from the heat and let stand until cooled completely.  Keep shallots in liquid in refrigerator until ready for use.
 
Rosemary aioli:
 
Take 1½  cup of extra virgin olive oil and steep ¼ cup chopped rosemary gently on a stove just to warm the oil and infuse.  Strain the oil (reserve ¼ cup to toss with smoked almonds), and whisk briskly in a very thin drizzle into 2 egg yolks with a grated clove of garlic, and add 1  tbsp. smoked paprika, a pinch of espelette chili, and fresh squeezed lemon juice and salt to taste.  Reserve in the refrigerator.
 
Smoked almonds:
 
Place 1 cup whole blanched and peeled almonds into a smoker for 30 minutes, remove and toast further in a 325F oven if you desire.  Remove, toss in with a little rosemary oil (and salt if you like) and cool, then chop.
To assemble:
 
Preheat grill.
 

Slice the octopus into 3 inch pieces and slide onto metal or wooden skewers (don't forget to soak wooden skewers in water for at least 30 minutes).

Baste with a little of the oil used to cook the octopus and grill until lightly charred.

Dot the skewer with the rosemary aioli, then sprinkle on some of the chopped pickled onions, the smoked almonds and garnish with micro cilantro.  Serve with fresh made potato chips and a nice arugula salad.
 
---