Delicious Healthy Chicken Fajitas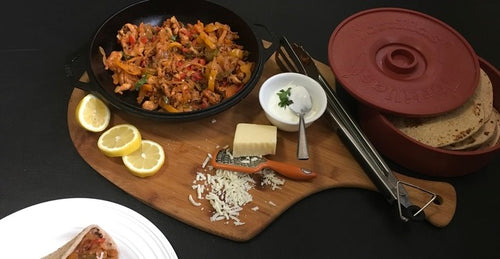 Submitted by Maria P.
Servings: 6

Ingredients:
1 and 1/2 pounds boneless skinless chicken breast, cut into thin strips
3 tablespoons Liokareas extra virgin olive oil
2 tablespoons lemon juice
2 tablespoons chopped cilantro
1 teaspoon salt
1 and 1/2 teaspoons cumin powder
1 teaspoon garlic powder or 1/2 tablespoon freshly chopped garlic
1/2 teaspoon chili powder
1/2 teaspoon paprika
1/4 teaspoon black pepper
1/4 teaspoon allspice or 1/4 teaspoon garam masala powder ( optional)
1/2 teaspoon crushed red pepper flakes (optional)
1/2 medium sweet red pepper, julienned ( optional)
1/2 yellow and orange pepper, julienned ( optional)
1/2 medium green pepper, julienned
 1 cup thinly sliced onions
For serving :
flour tortillas, shredded cheddar cheese, taco sauce, salsa, guacamole, lemon, ketchup and sour cream

Directions:
In a mixing bowl add extra virgin olive oil, lemon juice, cilantro and all the spices from ingredients, mix well and add the chicken. Now mix everything together, cover and put it in the refrigerate for 1-4 hours.
Heat up a large skillet, add marinated chicken, sauté well for few minutes on medium-hi-flame until chicken changes the color and no longer pink, continue sautéing for few more min until all the liquid almost dries up, add onion and peppers sauté on high heat for 1-2 min and turn off the stove.
Spoon hot chicken filling down the center of tortillas; fold in half. Serve with cheese, lemon juice, taco sauce, salsa, guacamole, ketchup, sour cream, etc.

Note:
for spicy or less spicy seasoning, adjust the chili peppers according to taste.
---