Caramel Walnut Apple Cake with Cream Cheese Filling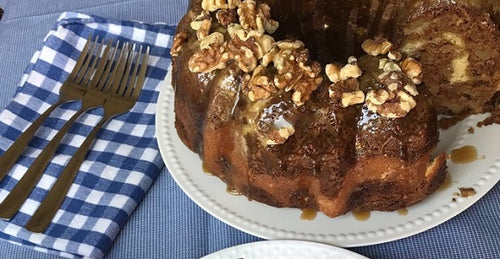 Submitted by Jennifer J.
Servings: 8
Ingredients:
3 cups all-purpose flour
2 cups packed light brown sugar
2 teaspoons ground cinnamon
1/2 teaspoon nutmeg
1 teaspoon Kosher salt
1 teaspoon baking soda
1/2 teaspoon baking powder
3 large eggs
3/4 cup Liokareas olive oil
3/4 cup sour cream
1 tablespoon vanilla extract
1/2 cup walnut pieces
3 cups peeled and chopped Honeycrisp apples (or other baking apple)
Cream Cheese Filling:
8-ounce package of cream cheese room temperature
1/4 cup olive oil
1/2 cup sugar
1 large egg
2 tablespoons all-purpose flour
1 teaspoon vanilla extract
Caramel Sauce:
1/4 cup unsalted butter
1/2 cup brown sugar
1/4 cup heavy whipping cream
1 teaspoon vanilla extract
Garnish:
1/2 cup walnut pieces
Directions:
1. Preheat oven to 350 degrees Fahrenheit.
2. Spray a 9 inch Bundt pan with non-stick baking spray.
3. For the cake, in the bowl of a stand mixer combine flour, sugar, cinnamon, nutmeg, salt, baking soda, and baking powder. Mix on low until combined.
4. Add eggs, olive oil, sour cream, and vanilla. Mix on low until cake batter is smooth.
5. Stir in apples and walnuts. Set aside.
6. For cream cheese filling, in a medium bowl, cream together cream cheese, and sugar. Add olive oil, egg, flour and vanilla. Stir until smooth.
7. Pour 1/2 of cake batter in 9 inch Bundt pan. Pour cream cheese filling on top. Add remaining cake batter.
8. Bake for 60 to 75 minutes on middle rack. Test for doneness by inserting a knife near the center. If it comes out clean, the cake is finished baking. If not, add additional cooking time.
9. Cool in pan for 15 minutes. Turn cake out on cooling rack.
10. While cooking, use a medium-sized saucepan over medium heat on the stovetop to melt butter and sugar. Cook until bubbly. Remove from heat and add whipping cream and vanilla to create a caramel sauce. Cool slightly to thicken.
---