California Dreamin' on Such a Winter's Day !!!!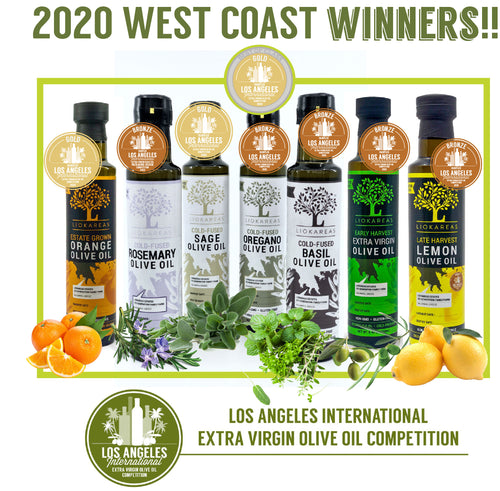 Pomona, California, February 17, 2020 -
The International Olive Oil Competition season has officially begun!  In this year's first major event, The 2020 Los Angeles International Extra Virgin Olive Oil Competition received 600 extra virgin olive oils from 17 different countries.
At Liokareas Olive Oil, we made astonishing leaps in 2019, closing the year as the 5th highest rated olive oil producer in all of Greece, according to the EVOOWR.  The motto that we continue to live by for 150 years and five generations is that "we learn something new each year, and we continue to always get better at what we do" .....and the 2020 LAEVOO results we nothing short of this.  
Liokareas Olive Oil received not one, not two....but EIGHT awards at the LA Competition!!! The was the most awards of any Greek producer in the competition. 
The competition results were issued simultaneously with the 4 new "cold-fused" herb olive oil flavors that Liokareas released earlier this week.  Those oils received 4 awards, and a special packaging design award to the new "cold fused" series. 
The award winning Olive Oils are as follows:
Bronze Award - Early Harvest Extra Virgin Olive Oil - Our most precious Koroneiki olives picked in the month of October, well balanced, with flavor notes of green grass, banana, green tomato, and that pleasantly peppery finish that we have grown to love. 
Bronze Award - Late Harvest Lemon Olive Oil - Our most popular olive oil and the first Liokareas Olive oil to ever win an International award at a major competition, which coincidently was in LA.  
Gold Award - Estate Grown Orange Olive Oil - The most Internationally awarded orange olive oil made by any producer in the world in 2019, and #2 in the world in the entire flavor category.  This years cold-fused Mani Orange appears to be continuing right where it left off in 2019. 
BEST IN CLASS & GOLD AWARD - Liokareas Cold Fused Sage Olive Oil - The best in class award is given to the best olive oil in its category, which signifies that it was the highest rated olive oil of ALL herb flavored oils in the competition.  This is the first time Liokareas Olive Oil has received a "Best in Class" award.  We are extremely humbled and excited to have achieved this milestone.  
Bronze - Liokareas Cold Fused Oregano Olive Oil- This olive oil is an amazing fusion of fresh Mani Oregano and green Koroneiki olives.  A must try flavor that has just being released for the first time by Liokareas Olive Oil. 
Bronze - Liokareas Cold Fused Basil Olive Oil - This olive oil is another amazing cold fusion of fresh Mani Basil and green Koroneiki olives.  This is a dream oil for a Tomato mozzarella caprese salad, amazing flavor! 
At Liokareas, we believe that awards are validation that the olive oil we've been perfecting for 5 generations actually is. Perfect. They prove our painstaking adherence to tradition is worth the pain and they give our customers a strong reason to believe that the money you're putting into our product directly correlates to the quality and enjoyment you'll get out of it.
We want to be the best Greek olive oil you can actually get your taste buds on. To produce the highest quality and most accessible Greek olive oil to our customers. That is our distinct difference.
The Liokareas Olive Oil company has released all these award winning oils and they are available at www.liokareas.com
---