Why do the Koroneiki olive picked vary from GREEN, YELLOW GREEN, & DARK?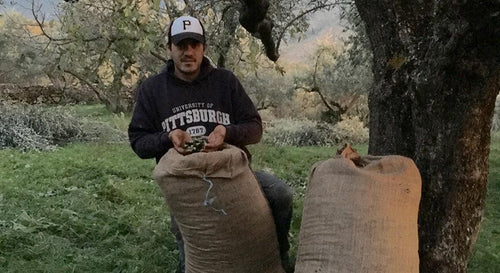 Why do the Koroneiki olive picked vary from GREEN, YELLOW GREEN, & DARK?
Green Immature Fruit:
These immature olives are green and quite firm. They aren't fully ripe so the cell vacuoles are still very stiff. The olives are picked during this stage because they produce oil that is bitter and grassy. These give off strong vegetative characteristics. These oils are high in polyphenols (the anti-oxidants that we love!!) and other flavor components. As a result, they have a unique taste and have a long shelf life thanks to these natural preservatives. The chlorophyll content is high so the oils are often quite green. When you pour your first sample of Liokareas you will be surprised at the bright green color that comes out!
Veraison - Olive Begins to Mature 
The olive matures from green to yellow-green and it starts to soften and the skin turns red-purple in color. The olives still have a high polyphenol content at this stage, and are starting to develop some ripe-fruity characteristics. Oils produced from fruit harvested at this stage have some bitterness and some pungency. They have close to a maximum amount of oil per dry weight. The olives are often considered to be at their peak for olive oil production.
Black (Mature) Fruit 
The olive continues to mature and the skin turns from purple to black. At this stage, the polyphenol and the chlorophyll contents decline and the carotenoid content increase. Therefore, oils produced from late harvest fruit tend to be more golden in color, less bitter, less pungent, and have a shorter shelf life. They are often described as sweet oils. The oil yield is high.
A later harvest will produce more oil to weight in olives, but the younger olive produces so many more great health benefits. The mixture gives you your unique flavor to your product.
So, when is the perfect time to harvest??
Now THAT'S the farmers secret!! 
---